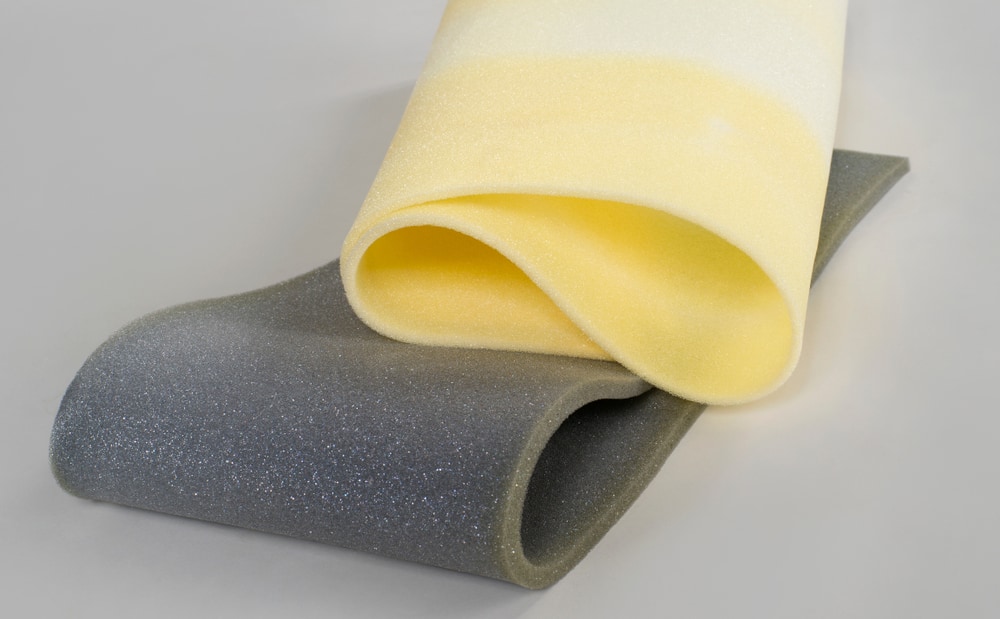 How is Polyurethane Foam Produced?
Does your car, kitchen sponge and mattress have anything in common? In fact, yes! They all heavily rely on flexible polyurethane foam, as do many other applications, ranging from the cushion you sit on, the filter in your vacuum cleaner, car seats, gym mats and handle grips on bikes. Polyurethane foam is crucial to our daily comfort yet we hardly ever see or hear about it.
The Conversion on Polyurethane Foam
PU foam is made by reacting diisocyanates and polyols, both of which are derived from crude oil. However, polyols may also be made from natural oils found in renewable sources. When isocyanates and polyols are mixed together, they react and form foam.
During the production process, isocyanates and polyols fully react with each other and so neither are present in the foam that goes to market. While this may seem like a simple process, industrial foam production can be rather impressive.
Industrial Foam Production
An average factory annually produces around 8,000 tons of foam, which represents a volume of nearly 265,000m3 of flexible polyurethane foam, that's like the water contained in 96 Olympic swimming pools. All from just one plant! The EU's entire production of PU foam is enough to fill the Star De France ten times or construct 9 Pyramids of Giza annually.
Everything begins when the raw materials are delivered as liquids to onsite storage tanks, individual substances are then pumped from these tanks to the production area via a closed pipe system. The whole process is computer-controlled, and so quantities are predetermined by the exact formulation of the foam to be produced.
The mixing head is where the real production process begins, isocyanates, polyols, pigments and other additives are mixed together in the mixing head. This is poured onto a rolling conveyor belt where it starts to foam. It forms a foam block along the conveyor belt and because foam production is a continuous process any foam block being produced on the conveyor belt could, in theory, be endless.
The long continuous block is cut into sections of up to 120m in length then it is cured and cooled for up to 24 hours before being transported to storage houses. At the storage house, the foam can be cut into short blocks compressed and packed and shipped to customers who use the foam at their premises.
Small Scale Foam Production
Making the conversion of foam in later stages can be more practical for a number of reasons:
It allows companies to shape foam using moulds.
Forming the foam when it is required will save on storage space.
It is logistically cheaper to transport the diisocyanates and polyols as opposed to foam blocks.
Creating Products from Flexible Polyurethane Foam
Foam can be transformed on-site into a variety of products, most of the processes are mechanical, yet using high precision cutting equipment, foam can be given a virtually endless number of shapes. Blocks of up to 120 meters long can be cut into thin layers of foam with extreme precision right along all the length of the block. Cutting machines allow for precision cutting of smaller pieces. During this process, foam can also be combined with other materials to make products ready for consumption, like kitchen sponges.
Variations in Polyurethane Foam
There's not just one type of foam, the variation in density, hardness and resilience is just about endless, it is the art of the foamer to adapt their formulation and production process to achieve the desired result.
All through the production process foam is tested for its conformity to requirements, it's important to know that a large number of foams produced for use in bedding and upholstered furniture are standardised under the British Standards Institution, this specifies substances that may not be used in foam production and sets stringent maximum limits for some components. Thus, ensuring consumers that the products they purchase are safe.
Rojac Urethane are polyurethane foam moulders based in the west midlands. Rojac specialises in production and prototyping polyurethane flexible foam and has many years of experience. Bring your project to life, call Rojac today on +44(0)121 502 6549 or send us an email at info@rojac.com for information or advice.