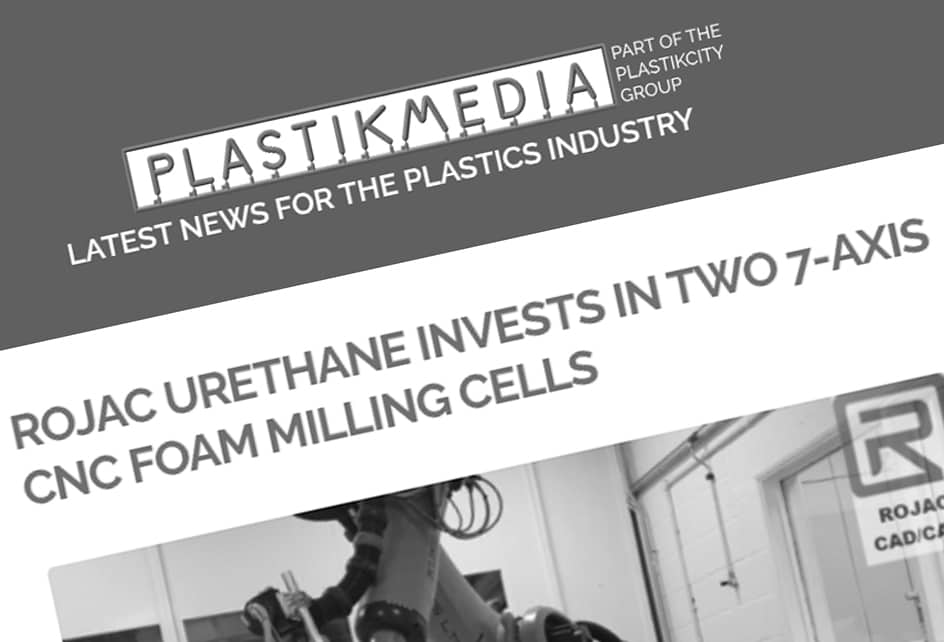 We've Been Featured by PlastikMedia!
Our dedication to growth here at Rojac Urethane has been paying off!
PlastikMedia, an extension to PlastikCity Group, recently featured us on their news outlet channel. PlastikMedia is the number-one news resource for the UK plastics industry and we're honoured to have featured in its spotlight. 
The article focuses on our recent investment into two KUKU 6-Axis robots, used in separate foam milling cells. Our robots - each combined with rotary machining tables, bring 7-axis CNC foam milling capabilities to Rojac Urethane. The cells utilise Autodesk® PowerMill Robot software, able to produce highly complex models and prototype parts onto a wide range of materials directly from CAD files.
When speaking with PlastikCity; our Managing Director, Duncan Blakemore commented: 
"We set out to exceed the speed and quality of prototype components currently available, whether in the UK or overseas. Our robot machining cells are capable of producing complex and unusual geometries, including complex undercuts and 3D objects. They provide a massive reach and 3D workspace that includes 10-station tool changers, giving automatic and flexible tooling selection for specific material removal and the best possible cosmetic finish".
"We can produce fully working prototypes that can be used for field testing, even combining different material types when necessary.  For example, an automotive seat is often required to provide different levels of support in certain areas, so we machine foam blocks of different hardnesses and then assemble the components into a single unit.  We can also incorporate items such as trim wires, hook & loop systems, clips and frames, as well as coat the finished assembly with a unique synthetic skin that replicates the finish achieved with the production moulded cushion".
You can read the full article here.
If you have a project that requires a bespoke development and prototyping service, Rojac is here to help. We can work with you to fully optimise designs before production tooling is laid down and high-volume manufacturing commences. Contact our friendly team today by emailing info@rojac.com or by calling +44(0)121 502 6549. Bring your ideas to life with Rojac Urethane.